Thos gorgeous babe is spending her Saturday evening alone at home watching Devils Film TV when someone knocks on her door. She goes to see who it is and a hot muscular pizza delivery guy is standing in her door way. She never ordered pizza but the guy insists that the order was made for her address. She tells him that there she never made an order and now he is all confused because it's the third time something like this happens and he can't afford to lose his job. He is a student and this part time job helps him to pay his college.
She invites him inside for a coffee saying that maybe they can figure it out together, and she even offers to pay for the pizza. The guy would like to thank her and she knows just the right way. When she starts teasing him by showing off her sexy legs and boobs, he gets all over her and they start making out. The naughty blonde gets her pussy licked and she gets on her all fours ready to get fucked. The guy shoves his hard cock deep inside her and drills her wet tight pussy. Have fun watching this scene and go to kellymadison.us to watch a naughty porn stars seducing horny guys just like this beauty.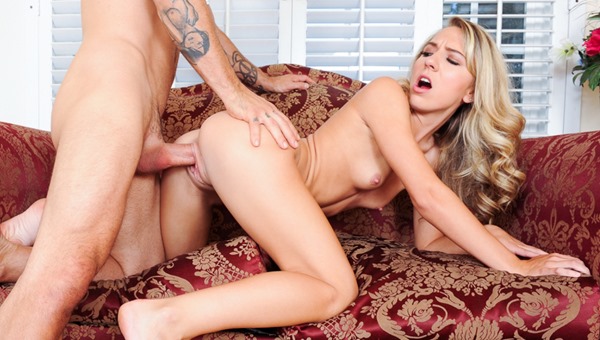 Watch this sexy blonde getting her wet pussy hammered!